The Party Pig is a 2¼ gallon self contained kegging system that is easily transportable. Pressure is maintained (at between 15-20 p.s.i.) by a patented pressure pouch that expands as beer is dispensed from the pig. The pig sells for between $35 to $40. This price includes the plastic vessel, holding tray, valve assembly and two pressure pouches. Pressure pouches, shown below, can be used only once. You'll also need to purchase an activation pump, (shown below) as well as a support stand used during filling. (not shown) The pig is convenient and fairly easy to use. Lee's Brewery has used 4 pigs for the past two years with good results. The pressure pouches, at $3.50 a piece, are simply over priced though. Lee's Brewery still recommends the Party Pig for those without a full CO2 kegging system. Note: Party Pigs should not be used with soda as an overly active batch can put too much stress on the pig with possibly dangerous consequences.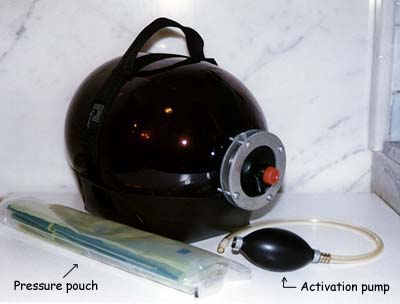 ---
Revised: Sunday, December 21, 1997 22:19:04
Copyright © 1996 by [Lee's Brewery].
All trademarks or product names mentioned herein are the property of their respective owners.