Brew Pot
Lee's Brewery current Brew Pot is shown in the photo below. The Brew pot is a 7 gallon stainless steel pot with a "Jack Schmidling Easy Masher II" screen/spigot installed for use during the lautering process. The pot also has a "Stainless in Seattle" temperature probe installed to aid in temperature control during the mashing process. Both of these items can be seen in greater detail in the "Pot Accessories" page of the Brewery Photo Gallery.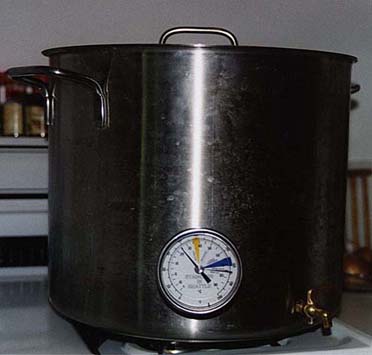 ---
Revised: Sunday, December 21, 1997 22:18:54
Copyright © 1996 by [Lee's Brewery].
All trademarks or product names mentioned herein are the property of their respective owners.