Brew Closet
It's important to have a dark and cool area to store your beer during it's fermentation. Lee's Brewery makes use of a closet for this purpose, the "Brew Closet". A photo the the Brewery's Brew Closet can be seen below. In the photo from left to right we have a "Dry Mead" in Primary fermentation, a "Belgian Ale" in a Secondary fermentation and a yeast starter for the "Scotch Ale II".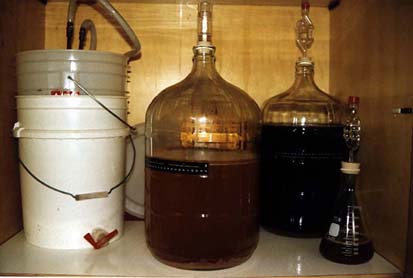 ---
Revised: Sunday, December 21, 1997 22:18:54
Copyright © 1996 by [Lee's Brewery].
All trademarks or product names mentioned herein are the property of their respective owners.